Barry Carter reflects back on the study we published last week which proved that online poker, and offline gambling, have a complimentary relationship with each other.
Last week, we ran a feature that highlighted that
offline gambling and online poker have a complimentary relationship
, rather than a cannibalising one. A lot of people I have since spoke to said they were not surprised by this, and I must say, neither was I.
In the early days of online poker, you could understand full well why bricks and mortar casinos were anxious about the growth of online poker, in the same way that mainstream book publishers may have been nervous about the onset of the kindle, or countless other examples of how the online world has changed the face of an industry. But like many other markets, it proved to be a game changer, rather than an industry killer.
It is important to note that for several reasons, the study was limited to the relationship between online poker, and offline gambling, not offline poker. It could well be that, in fact, offline poker and online poker have a cannibalistic relationship, one which is offset by a stronger gross compliment between broader gambling and offline poker. But I doubt that would be the case.
The live poker boom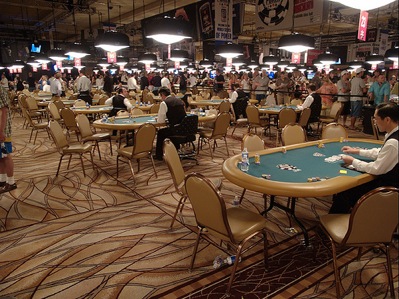 The WSOP boomed

First of all, you only need to look at live poker figures before and after the Moneymaker boom to see what a mutually beneficial relationship the two parties have.
The main event had 839 runners in 2003 when Moneymaker won it, then 2,576 in 2004, 5,319 in 2005, and a record 8,773 in 2006. In three years the biggest tournament in poker increased almost ten-fold. Moneymaker may have lit the fuse, ESPN may have presented it to the masses, but it was online satellites which brought the players to the tables.
Since then, the success of the European Poker Tour demonstrates this ongoing relationship in action. Not only are EPT fields the biggest in Europe, they are also some of the biggest in the world. This is all due to the significant marketing a giant like PokerStars can put behind such a series, and of course, the fact that a poker room of its size provides a huge amount of satellites into the main event.
Probably one of the biggest reasons that new tours and live poker events fail is because they do not have the backing of a major online poker room. Either because they do not have the marketing clout, the financial clout to boast a guarantee, or simply because they do not have enough online satellites into the main event. So simply for a new live poker venture to flourish, it needs to embrace online poker.
Live for show, online for dough
The convience of grinding

Anyone who thought that online poker would harm live poker simply needed to speak to poker players to see that was never likely to happen. First of all, most new players come from an online background to begin with. The easiness and anonymity of online poker means that so many new demographics are trying the game who would never have initially set foot in a card room (Case in point; my Mother plays online and is looking forward to her first live game very soon).
The fact that you can play for any sized stakes is another way in which online poker has provided a bridge to live poker that would otherwise never have existed. If you want to learn to play in a casino, you have to spend a reasonable amount of money the very first time you play, an expensive lesson which is off-putting to many. But play money, freerolls, and micro stakes have meant that people can learn the ropes relatively risk-free before trying their hand at a live game.
I don't know many online players who don't view live success as the ultimate goal to aspire to. Even though many will spend most of their playing hours online, it doesn't mean they don't love and yearn to play in the biggest live games. Likewise, most live players may much prefer playing in person, but that does not mean they don't really appreciate the convenience of online poker. Being able to play whenever they want, for whatever stakes they want.
Online poker and live poker are not competing for market share, they complement each other greatly. Online poker has proved the greatest ever marketing tool for offline poker, and combined with televised poker, has brought numbers to the live tables that were never thought possible. By the same token, any region that restricts the online poker options of their public is ultimately going to do the same for the offline poker industry in that area.
by Barry Carter